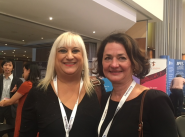 Biobanking, London, October 25-26, 2018
The Oxford Global team organize annually the co-events, summits, or congresses, aiming to connect related research topics. This year four events: 7th Annual Cell Culture & Bioprocessing Congress, 5th Annual Stem Cells Congress, 4th Annual Cell& Gene Therapy Congress and Biobanking Congress, took place in Novotel London West hotel and Congress Centre in London in October 25-26.
Over 150 leading biobanking, biomarker and sample management experts came together to discuss the most recent developments within research and industry. The Biobanking congress brought together key speakers from Europe's biobanks to explore key insights into biosample management, standards, quality management as well as future advances in areas such as regulations and collaboration. The presentations by leading pharmaceutical companies featured biobanking and case studies in biomarker-driven clinical trials and the role of biobanking in the future of personalised medicine was discussed.
University Hospital in Pilsen was presented by the talk on "Personalised Medicine in Oncology"by Judita Kinkorová, and a panel discussion: "How Biobanks Facilitate Personalised Medicine".
The congress offered the participants the platform for future collaborations. In the picture is Balwir Matharoo-Ball, deputy director of Nottinghem Health Science Biobank and a head of working group ESBBTranslate, for industry- academia collaboration (European, Middle Eastern & African Society for Biopreservation and Biobanking, ESBB).